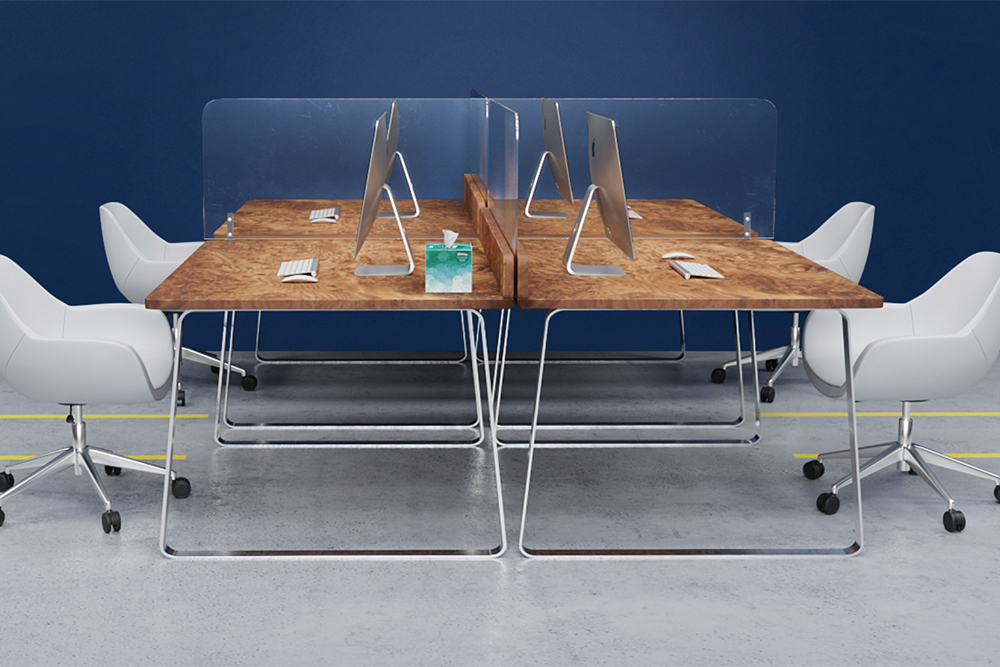 Reopening safely means redesigning your workplace for social distancing, and that often includes the addition of barriers. They add a layer of protection, creating a physical barrier between people to help reduce exposure to airborne droplets.
---
There are many different factors for workplaces to consider when selecting the right barrier. We at Rhyme are here to help you find the best barrier solution for your business — just follow these five key steps to pick the right one for you.
1. Identify the Type
The first thing to don when picking the right barrier is assessing the space it will go in and figuring out what kind of barrier design you need for that space. Barrier types include:
Desk or Counter Barriers — ideal for retrofitting workspaces, especially open office/hoteling situations or areas where employees and customers interact

Available in attached and freestanding designs so consider how portable you need the barrier to be
Options with a pass-thru window allow for the exchange of documents

Panel Systems — a more permanent solution to divide spaces or create cubicles
Mobile Dividers — a retrofit option that can protect workstations and divide hallways and common areas, all with the flexibility to move freely as needs change

Cut-out option allows for temperature checks
2. Find the Right Size
Many of our barriers come in a range of sizes, allowing you to find the right fit for your workspace.
3. Compare Materials
Barriers are made from all different kinds of base materials, so it's important to consider what kind works best for your environment. Material types include:
Acrylic — clearer but softer, so less scratch-resistant
Polycarbonate — less clear, more scratch resistant
Tempered Glass — clear, durable, scratch-resistant and writeable with dry-erase markers
Polyester — sound-absorbing and pinnable
Contourett Vinyl — sound-absorbing and pinnable
4. Keep Cleanability in Mind
Keeping all your barriers clean in very important. Cleaning methods for our assortment range from simple soap and water to disinfection.
5. Consider Color
Barrier colors can be just as important as other barrier aspects. Factors like color shades and opacity can affect visibility, privacy and aesthetics. Color types include:
Clear — allows for visual interactions
Frosted/Opaque White — offers more visual privacy; frosted allows more light to pass through
Colors — provide privacy and the opportunity to enhance interior design
Download Rhyme's Guide to Barriers