The days of wiping chalk dust off your hands and erasing lengthy notes off traditional chalkboards and whiteboards are over. The future of communication for business professionals and educators alike is in Interactive Display Technologies.
---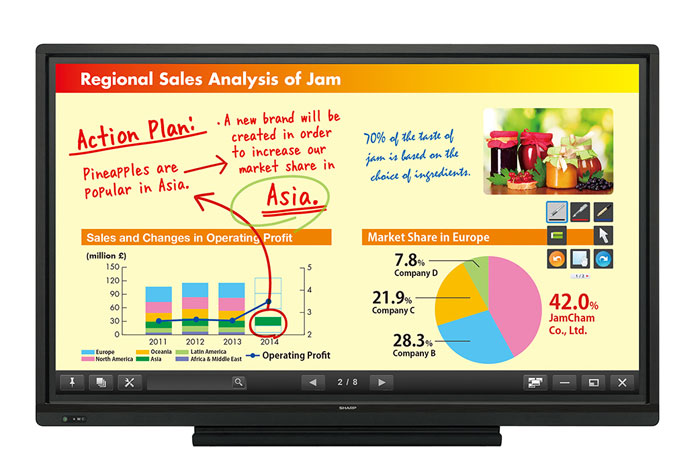 Once monopolized by video projectors, education and meeting spaces are now seeing Interactive Digital Displays that offer better prices, improved total cost of ownership (TCO), higher resolution and new compelling features. The Bring-Your-Own-Device (BYOD) trend has created this need for a more interactive solution that allows users to connect by using their tablets, laptops and smart phones. The collaboration tools you use in your meeting spaces and classrooms now need to be able to work seamlessly with the variety of devices your users own.
As prices have come down and displays have become more user friendly, there has never been a better time to add interactive collaboration tools to your space. But the next challenge is in choosing the right product that solves your particular need.
Projector-Based Vs. Digital Displays
Video Projector-Based Solutions
Video projectors typically require wiring and/or mounting equipment in the ceiling, lamp changes and other maintenance. Projectors also have the added disadvantage of producing a dimmer image on the screen, which means you need to dim or turn off the room lights for optimal visual performance.
Interactive Whiteboards and Digital Displays
Previously viewed as too high of an initial investment, Interactive Whiteboards are now to a point where the TCO is less than a projector-based solution. They also feature multi-touch response that lets multiple users annotate simultaneously and work together on the touch screen. The best Interactive Display solutions also offer digital signage functionality by being able to convert them into wall displays to showcase in the lobby of a school or business.
For those wanting to leverage their existing investment in collaboration equipment and avoid the need for IT department approval, the Sharp AQUOS Board has taken the "open platform" approach by allowing users to utilize their existing IT department-approved peripherals and software with the display. This means the display will integrate smoothly with existing videoconferencing, cameras, software and other equipment. The AQUOS Board runs on your existing Windows OS and peripherals.
With three sizes to choose from: 60", 70" or 80" Class, the AQUOS Board offers HD clarity to help make presentations come to life. Click here to learn more about which Sharp Aquos Board Interactive Display Systems Rhyme offers.
Not 100% sold yet? Come in for a demo from one of our experts or see how you can take one for a "test drive"!