Technology has revolutionized the way we communicate. We create, share and store data faster than ever and this has greatly impacted the way we conduct business. While transmitting data almost instantaneously has its benefits, it also causes security concerns, especially for businesses that require their information to be confidential and safe.
---
But you're not defenseless; by taking advantage of your MFPs security features you can safeguard stored documents and prevent unauthorized access to your network.
Physical vs. Network Threats
First let's address two types of security threats; physical and network. Physical threats can be someone taking a printed job from the output tray or faxed without authorization. Network threats include outside users placing a virus on the device via a network or phone line. Sharp addresses these concerns by providing a suite of integrated security features designed to help protect your information and document assets.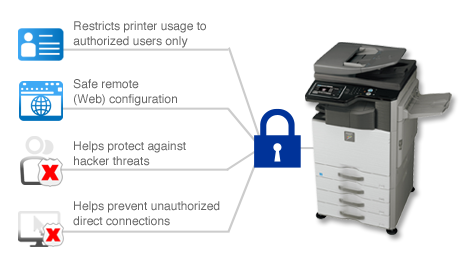 The Sharp Security Suite includes:
Sharp MFP standard security features
Sharp's Data Security Kit (Commercial & Common Criteria Certified versions)
Print driver security features
Sharp OSA technology-enabled security applications
Sharp Data Security
The Sharp data encryption method uses the 256*-bit Advanced Encryption Standard (AES) algorithm on all data before it's written to RAM and the hard disk drive. An end-of-lease feature erases all data before returning or relinquishing control of the MFP.
Sharp Network Interface
Provides an extensive set of access and network control security features designed to prevent unauthorized access including:
Access Control Security

Account codes, login credentials and the ability to limit user capabilities

Data & Information Security

Overwriting routines for deleted data to ensure information is irretrievable by unauthorized users

Network Security

All communications to and from the MFP can utilize SSL for secure transmission over the network

Document Security

Sensitive documents can be protected through Sharp encrypted Adobe PDF files or access control with secure print release through PIN number

Audit Trail Security

The "to", "from", "when" and "file name" can be logged, reviewed and archived for comprehensive auditing

Fax Security

The architecture of Sharp MFPs makes it impossible for attackers to gain access to the internal systems
Security Standards
Sharp can help your organization meet the information security requirements found in the Private Sector and Corporate Organizations as well as Public Sector and Government Organizations. The Security Suite can help meet the privacy requirements of the Gramm-Leach-Bliley (GLB) Act, Health Insurance Portability and Accountability Act (HIPAA) and the Sarbanes-Oxley (SOX) Act. For Public and Government Organizations, the Suite can meet information security requirements through ISO 15408/Common Criteria certifications or features such as Common Access Card (CAC)/Personal Identity Verification (PIV).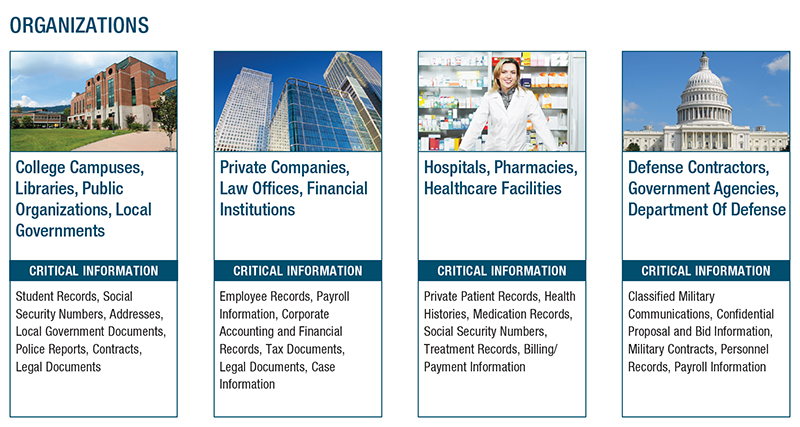 Whether you're in Education or Finance, properly managing your data is critical to your success and your MFPs and printers play a crucial role in that success. Don't underestimate others' abilities to hack into your network and steal sensitive information, protect it with the Sharp Security Suite. Contact Rhyme today to learn more about your MFP and its security features.