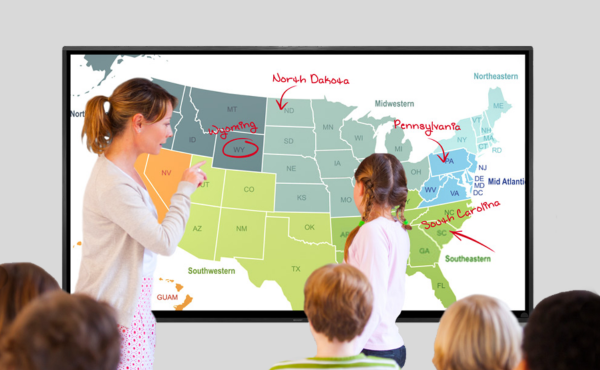 Learning is becoming more and more digitized, particularly during the COVID-19 pandemic. Luckily, technology is also becoming more comfortable to use and takes less time to implement. With the ability to use the display as a touchscreen device, an interactive whiteboard allows teachers to accomplish a wide range of tasks, from presenting to collaboration.
---
According to several surveys after introducing smart technology in schools and colleges, students' engagement rate improved 55%.
The Sharp Interactive Displays offer a powerful and affordable solution for interactive classrooms.
One great example of how the Sharp Aquos Board® interactive display enhanced learning was at West Allegheny Schools. The West Allegheny School District is made up of 3,500 students and is comprised of one high school, one middle school and three elementary schools.
The school district had a hodgepodge of outdated interactive projector-based systems in the classrooms and wanted to enhance classroom learning, especially in the middle school and high school.
The teachers were not happy with the current classroom layout since they had to have wired connections from their computers to the screen and it was not conducive to effective teaching. They preferred to move throughout the classroom and interact with the students while giving the lesson and they just couldn't do that tied to cords and short connections. Throughout the pandemic, they had to quickly transform the way they taught, and with students returning to the classroom, they wanted an easier way to teach.
"The ability to have a wireless universal platform is critical to provide a high-quality education during a pandemic." - Dr. Jerri Lippert Superintendent of Schools
After a demo of the Sharp 70" (69.5" diagonal) AQUOS BOARD interactive display, the staff were very impressed, especially since they were able to use their laptops and drive the display wirelessly, so they didn't need to be tethered to it. They also liked the flexibility to use whatever software the teachers felt comfortable with, whether it's Google Classroom, Blackboard Learn or similar software.
The fact that the AQUOS BOARD interactive displays also came with eShare capability really helped sweeten the deal. eShare is a wireless casting collaboration app that allows users to mirror the display with their laptop, smartphone or tablet, meaning the teachers can mirror whatever is on their laptop directly to the display.
The superintendent originally was going to purchase 50 AQUOS BOARD interactive displays for the middle school and half of the high school. When the school was able to acquire ESSER (Elementary and Secondary School Emergency Relief) funds through the CARES (Coronavirus Aid Relief, and Economic Security) Act, they made the decision to outfit every classroom in the district with the displays. They also purchased Peerless-AV Rolling Carts for each AQUOS BOARD interactive display.
PROVEN RESULTS
The teachers are thrilled that they can connect to the displays wirelessly, allowing them to move around the room while teaching. The eShare capability helps to facilitate collaboration and allows the teachers to connect and share from any device, making the lessons more engaging.
Just some of the many features of the Sharp Aquos Board interactive display include:
Simultaneous Writing: The display lets multiple people write on the screen at the same time using touch pens or fingers, allowing students to take an active part in classroom interactions.
Multi OS Support/Plug-and-Play: Compatible with major operating systems. Your computer automatically recognizes the display when connected, without a complicated driver to install.
4K Ultra-HD resolution: The 4T-B70CT1U interactive display supports 4K Ultra-HD and captures fine textures of still and video images, while also reproducing precise details of small text and complex graphics.
Professional Command Control: RS-232C and LAN command set enables flexible and centralized remote control from connected devices.
Protective Glass: Anti-reflective tempered protective glass increases durability and clarity while protecting the display.
Benefits of an interactive whiteboard:
Collaboration: Interactive whiteboards are an excellent way for kids to interact with the material they are learning from. Children thrive with hands-on learning, so their understanding of the material comes from touching, drawing or writing on the board. Entire classrooms can join in on educational games, even when learning remotely. Since interactive whiteboards offer immediate feedback, which allows students and teachers to easily assess student progress.
Enhanced lessons: Interactive whiteboards are a useful tool for integrating learning styles. Students can experience a connection to their learning by hearing, seeing, and interacting with the board through touch. Movies, PowerPoint presentations and graphics can be used in addition to standard text-based lessons. Because of this, students learn better and remember more.
Ease-of-use: One of the biggest perks of interactive whiteboards is that they don't require a lot of maintenance. Data is easily marked using a stylus or a finger for highlighting, drawing and writing. There is no need for extra tools, which means no mess or cleanup!
Flexibility: An interactive whiteboard can host many different platforms. Teachers have a wide array to choose from, whether it be photos, graphs, illustrations or videos. The Sharp 4T-B70CT1U AQUOS BOARD® interactive display offers plug-and-play compatibility for quick integration with various cloud-based platforms, including Google Classroom, allowing presentations on a large-format display inside the classroom. Additionally, precise 20-point multi-touch functionality allows multiple people to collaborate effectively and creatively to facilitate effective learning.
The most important aspect to consider when choosing to add an interactive whiteboard to your classroom is usability. There is no sense in having an expensive piece of technology in your classroom if you can't even use it. When researching manufacturers to purchase an interactive whiteboard, look for those that offer no-risk demos and no- or low-cost training included with the purchase.
As classrooms continue to plan for a hybrid approach, educators need to plan for not only their current needs but also their future needs. A smart classroom equipped with an interactive whiteboard and modern tools help with effective learning outcomes for all students. They enable learners to absorb more. Having the right technology in your classroom can make the biggest difference in both teachers and students lives. Learn more about the Sharp Aquos Board Interactive Display.
Resource: Sharp