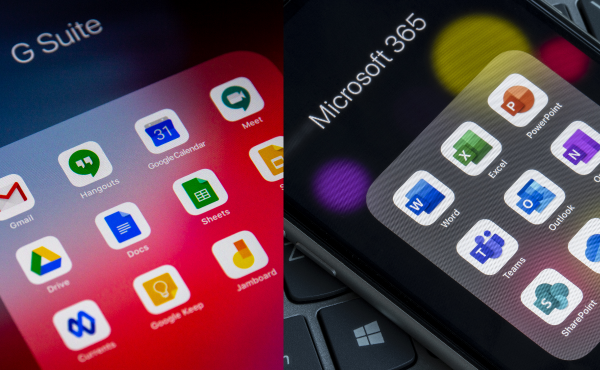 When choosing an Office Suite for your business, the top choices in the marketplace today are Microsoft Office 365 and Google G Suite. Each one offers professional business email and productivity tools for easy collaboration. Both are subscription-based, charging businesses per-person fees every month, with varying levels of subscriptions, depending on the capabilities you are looking for.
---
Depending on the needs of your business one or the other may be a better fit. Below we will go into what are G Suite and Office 365, along with the apps included in each of the offerings, pricing, and security.
What is G Suite?
G Suite, formerly Google Apps, is a collection of Google products to streamline business operations. Google offers these apps and services to businesses, institutions, and nonprofits on a monthly subscription via different price plans. While most of the products are free for everyone, there is some difference between G Suite and free google apps. The Google Productivity suite adds enterprise-level, advanced features in the Google workspace including shared calendars, optional unlimited storage (Google drive), advanced admin controls, data migration tools. Furthermore, it also comes with mobile device management, remote wipe, and custom email addresses for your domain.
G Suite includes the following apps:
Gmail- Custom Based Email

Meet- Voice and Video Conferencing Tool

Docs- Word Processing Document

Sheets- Spreadsheets

Slides- Presentation Builder

Chat- Google Hangouts

Drive- Cloud Storage per user

Calendar- Shared Calendars

Forms- Survey Builder

Sites- Website Builder

Currents- Engage Employees

Keep – Notes and lists

Apps Script- Optimize how you work

Cloud Search- Smart search interfaces across G Suite
What is Microsoft 365?
Over the past 30 years, most of the world's population has used Microsoft products whether at school or office. Since Office 365 launched, Microsoft has been enhancing its office productivity suite. Office 365 is now offered as part of Microsoft 365 which uses a subscription-based model that includes core apps and additional apps for businesses. All the apps are connected to each other and online in Office 365 to facilitate collaboration and teamwork. Office 365 is built as a cloud-first application that supports on-the-go work. Employees can easily work anywhere, anytime, with secure access to office files and documents from any device. The desktop versions of the widely used apps are a great option and have set high standards for competitors.
Office 365 Apps include your most familiar, easy-to-navigate tools:
Word
Excel
PowerPoint
Outlook
OneNote
One Drive for Business
Teams
Exchange
Publisher
Microsoft offers all three versions of its apps (desktop, web and mobile). Desktop versions of these apps are easy to navigate as mobile and web apps lack the luster. Microsoft's apps are feature-rich providing the necessary tools for easy collaboration and communication to each individual in an enterprise.
G Suite Pricing
G Suite offers three subscription levels ranging from $6-25 per user per month. G Suite apps are all web-based only but now have offline mode functionality.
Microsoft 365 Pricing
Microsoft offers subscription plans for Microsoft 365 for home, business, enterprise, and education. The Business Standard and Business Premium plans provide access to the desktop versions of popular tools like Outlook, Word, Excel, PowerPoint, Publisher, and Access. Though, all of the Microsoft 365 subscription plans give direct access to the web and mobile versions of your favorite apps. Pricing can range from $5-20 per user per month depending on the plan chosen.
Security
Both Microsoft and Google use high standards of security and compliance. When it comes to Office 365 vs G Suite security, Microsoft's use of Multi-Factor Authentication as compared with G Suite's two-factor authentication, puts it a step above. The wide range of third-party apps and extensions that G Suite platform is connected with makes it a higher risk, as users grant permissions.
Conclusion
Choosing between these two-productivity tools is not easy since they both are very similar. Both Microsoft and Google have millions of users. One deciding factor is that most businesses are automatically tied to the Microsoft ecosystem with using Windows PCs, making it an easy fit. Microsoft also offers all three versions of apps (desktop, web, mobile) making Office 365 a solid choice for many styles of workplaces.
Resources:
Microsoft 365 - Subscription for Office Apps | Microsoft 365
Google Workspace | Business Apps & Collaboration Tools
G Suite vs Office 365: The Ultimate Guide - Communication Square LLC