With more employees coming back into the office, now is the perfect time to update your office furniture and bring a fresh new look into your organization that is both sustainable and enticing to your employees. The resimercial style is still in, however it's evolved, and workers are beginning to pay more attention to their workstations and how they affect the environment and themselves.
---
Inside Out / Outside In
The newest popular trend for office furniture is Inside Out / Outside In, which is an evolved version of the resimercial trend that sprang up last year. Essentially, Inside Out / Outside in introduces more natural themes into the design of furniture and decorations, while still maintaining the mix of residential & commercial feeling that's the core of resimercial. These designs are both self-soothing to employees and provide a great way to reduce noise. They're also more sustainable, which is more important now than ever. Designs include more plants, large pieces of wall art, ergonomic soft seating, and many different color palettes. Below are some examples of what this could look like.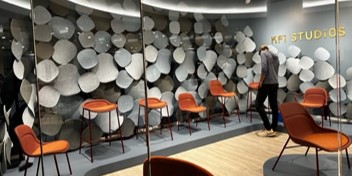 Other Key Office Furniture Trends
Sustainability is a big factor in office furniture now as people are growing to be more aware of their carbon footprints. On top of that, ergonomics is also very important to many employees, and ensuring that workstations are set up to be ergonomically correct is key. Sit-To-Stand workstations are now considered to be standard when it comes to workstations, and soft seating is expected to also be ergonomically correct. Designs are on trend, functional, and sustainably built. Color trends are leaning towards bright colors, with Pantone's color of the year being Viva Magenta, a reddish pink color, and lighter shades of brown, gray, and blue being popular options as well. Overall, the trends are sticking to resimercial, but with more sustainability, flexibility, and functionality.
What is Sustainability in Office Furniture?
Being sustainable is a key part of the inside out / outside in trend, but what does it mean for office furniture to be sustainable? People, especially those in Gen Z, are becoming more aware of their carbon footprint, and trying to reduce their individual impact by eliminating things such as plastic, single use to go containers or plates, and by purchasing products that are less wasteful. When it comes to office furniture, sustainability means having furniture that is environmentally friendly. This includes furniture that's made with biodegradable and plant-based materials, and furniture that has multiple uses such as sit-to-stand workstations. Sustainable office furniture also includes accessories such as more plants, or naturally designed wall art.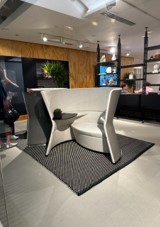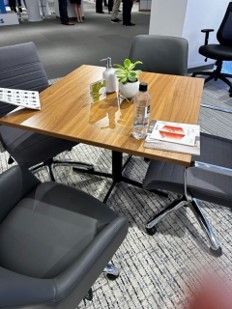 Time for a Refresh
Rhyme can provide your office with on-trend office furniture solutions that are both sustainable and functional. One of Rhyme's top sustainable office furniture brands is Safco, which offers the AlphaBetter line of sustainable office furniture. The AlphaBetter line features desks, chairs, casters, and even height adjustable desks that are all made from sustainable materials. Rhyme can also provide other sustainable products such as to-go containers, office supplies, recycled toner, and much more. Click the link below to see more.