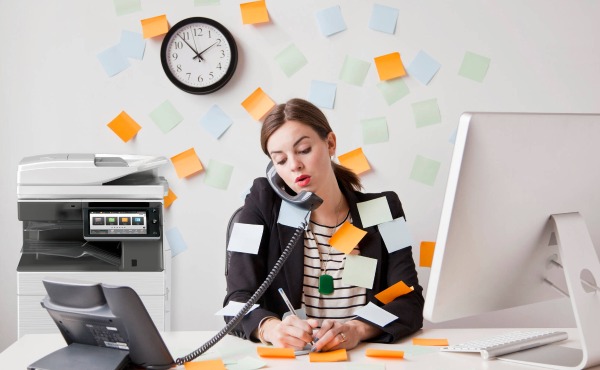 The Rhyme Device Management (RDM) solution offers the ability to manage your complete fleet of print devices, including all manufacturers, over 25,000 different models in fact, so if you have a diverse print fleet, it is easily managed. RDM simplifies meter collection, billing, supplies, and service delivery, enabling an exceptional customer service experience.
---
RDM works by utilizing a secure, cloud-based, proactive supplies and service platform to drive organizational efficiency. With total control of your fleet, you can reach new levels of business growth.
RDM is a powerful tool, offering data collection, supply triggered alerts, automated supplies fulfillment, and comprehensive reporting in real-time.
Supplies
Part of the RDM solution is the Automated Toner Replenishment (ATR) program. ATR is set up to deliver the right inventory at the right time. With just-in-time supplies fulfillment, you eliminate the need for excess in-house supply. We monitor your fleet so that you don't have to, saving you valuable resources – your time and money. Each device will have different print trends, and our experienced staff takes each print environment and its habits into consideration.
Key Benefits:
Eliminate excess in-house supply inventory. Many companies acquire more inventory than they need, taking up valuable office space. When you are on the Auto Replenishment Program, this will no longer be a concern.

Reduce time and effort. You're busy as it is. Why should you have to worry about your printers running out of toner, what inventory you have on site and what you need to order from one or multiple suppliers?

It's easy to implement. We start shipping when your printer lets us know it's ready!

It's flexible. It can work with multiple manufacturers and models, no problem. You can start this service at any time.
Service
Rhyme's Service Department utilizes the online dashboard to proactively monitor your print environment.
RDM communicates with our Dispatching team 24/7 allowing us to dispatch service calls proactively rather than waiting for you to call us. With scheduled routine maintenance visits, the change of an emergency call decreases significantly.
Our service technicians can connect remotely to the web interface of the device, allowing them to troubleshoot or adjust configurations without having to come on site, no more service delays. Rhyme technicians do not have a parts budget, which means their main goal is to do a complete preventative maintenance check and parts replacements while they are there – resulting in increased uptime!
Key Benefits:
Receive alerts on error and maintenance codes

Identify required parts for onsite service call

Ability to review statuses on other devices when servicing a reported issue

Access to device webpage to review data and adjust settings if needed

Assists with call avoidance

Increased first call efficiency

Firmware updates are monitored and kept up to date
RDM Reporting & Other Tools
The need to call in or provide meter readings is over. With the Rhyme Device Management, monthly meter readings are automatically collected.
Graphical reports are also available. It's easy to see which devices are being used the most, the least, and how much color printing is being done.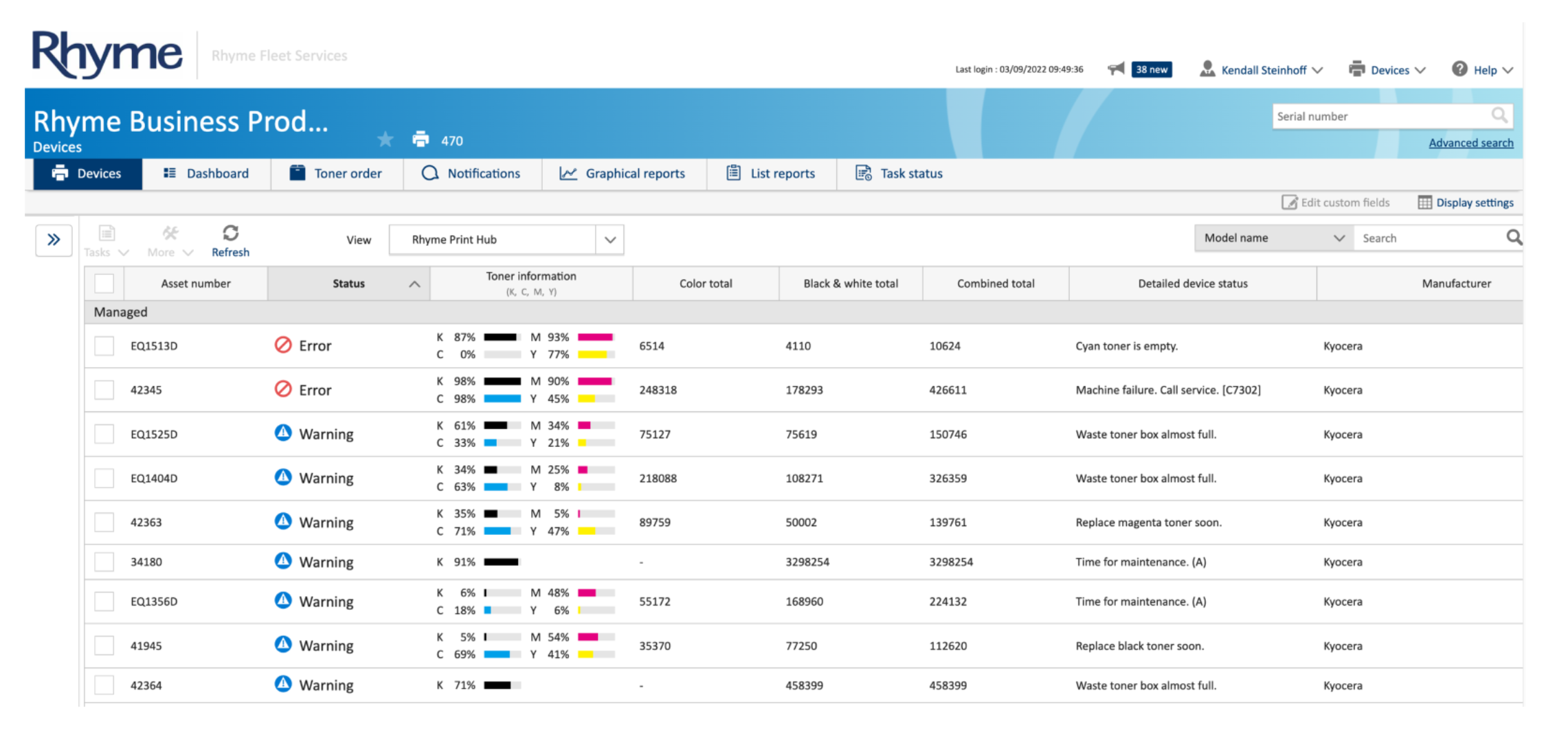 Some reporting available:
Maintenance Reports

Event Logs & PM Schedule

Meter & Usage Reports

Print, Copy, Scan & Fax

Supply Reports

Waste Containers, All Colors and Black & White Levels

Learn more and get signed up with Rhyme Device Management today.