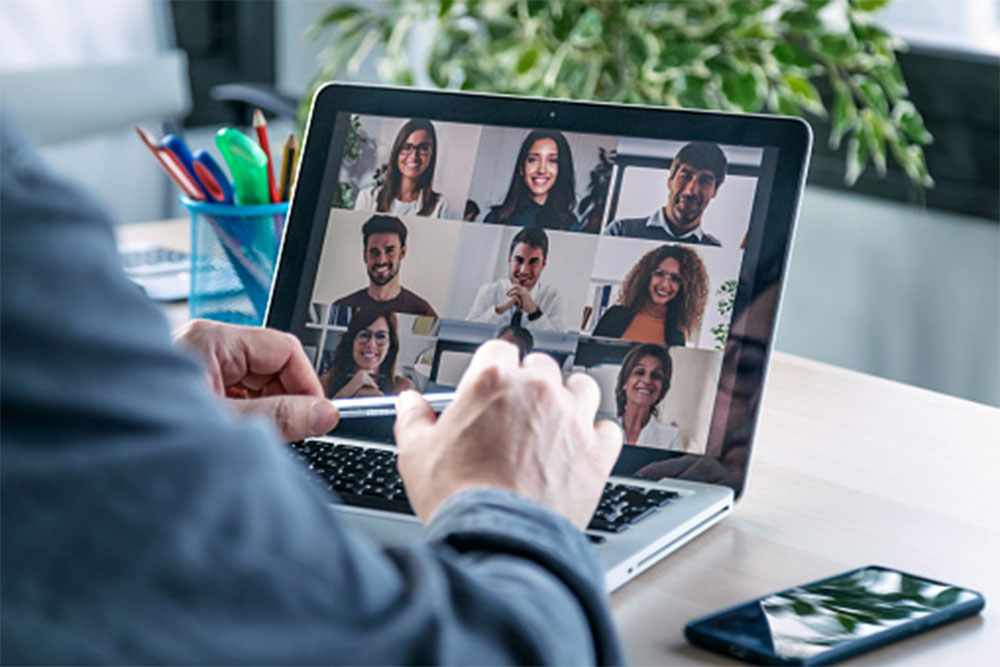 In response to circumstances resulting from COVID-19 (Coronavirus disease) many workplaces now need to quickly implement new processes for remote work. While your physical locations will change during this difficult time, as a company you want to stay connected and maintain business operations by providing technology that enables your employees to work from anywhere.
---
How to Enact Rapid Deployment of Workforce to Work-from-Home
Remote employees have unique technology needs that must be addressed before they can realize their full potential. Rhyme can help you to identify the technology and the tools needed by your team and quickly respond to changing needs. Remember that while some technology will work for a majority of your team, you may have specialized needs within your team that you must address.
Important Factors to Address:
Network and Security Readiness
Prepare your network to support an increase in work-from-home collaboration.
Traffic control: We can help ensure users are able to connect and collaborate as easily and effectively as they do in the office.
Bandwidth Management: The way your users work has changed; your bandwidth consumption will change, too. Know what to expect and how to manage in this new way of working.
VPN Best Practices: With more users connecting remotely, consider options to manage VPN traffic and amplify collaboration experiences.
Enable security features and protocols that support rich collaboration with minimal risk.
Best Practices: New to Working Remote
If you're new to remote work, we're here to make the change easy — stay connected to your team and focused on the things that are most important.
Find a workspace that's comfortable and productive. Set up your work space where you can connect your computer with an ethernet cable or have a strong wireless connection.
Test your gear before that important video call. Think about the camera angle, and remove any personal items you don't intend to display. Partner with a colleague to test camera angles, microphone functionality and speaker output.
Brighten up the conference so colleagues don't struggle to see you. Use natural light from windows or simply turn on the overhead light.
How Managers Can Support Remote Employees
Establish structured daily check ins: Many successful remote managers establish a daily call with their remote employees. This could take the form of a series of one-on-one calls, if your employees work more independently from each other, or a team call, if their work is highly collaborative.
Provide several different communication technology options: Email alone is insufficient. Remote workers benefit from having tools, such as video conferencing and chat messaging, with tools like Microsoft Teams.
Remote work becomes more efficient and satisfying when managers set expectations for the frequency, means, and ideal timing of communication for their teams. For example, "We use videoconferencing for daily check-in meetings, but we use IM when something is urgent." Also, let your employees know the best way and time to reach you during the workday.
Provide opportunities for remote social interaction: One of the most essential steps a manager can take is to structure ways for employees to interact socially (that is, have informal conversations about non-work topics) while working remotely. This is true for all remote workers, but particularly so for workers who have been abruptly transitioned out of the office.
Provide encouragement and emotional support: Especially in the context of an abrupt shift to remote work, it is important for managers to acknowledge stress, listen to employees' anxieties and concerns, and empathize with their struggles.
Services Rhyme Can Provide to Support Remote Employees
Teleconferencing Tools
Audio, web and video conferencing
Interactive Whiteboards & Displays
Phone setup and call routing
Desktop Printers & Office 365 Apps
Document sharing and collaboration tools
Home printers, scanners, cameras & more
User access
IT Services & Recovery Planning
VPN setup
PC & Laptop setup
Remote management and monitoring
Other IT services
Rhyme is open and here to help you during this uniquely challenging time. Reach out with any questions you may have and know that we are ready to help you get your team up and running for Work-from-Home. From Network, Security, Software, and Hardware, we are equipped with the tools to build a remote-work environment.
For more home office tips and tricks see: